Google Cloud Platform Adds Machine Learning APIs
Developers interested in creating apps that understand text or speech can look to Google's cloud for tools — the Cloud Natural Language API and the Cloud Speech API. The two offerings have now advanced into open beta status.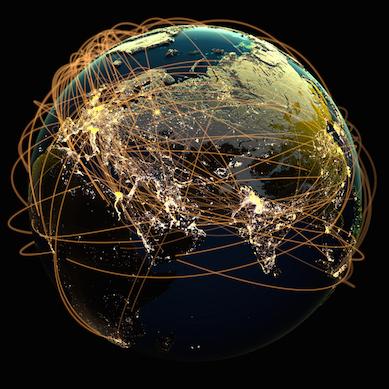 (Click image for larger view and slideshow.)
Continuing its evangelism of machine learning, on Wednesday Google said two of its machine learning APIs introduced in March have advanced into open beta status.
The first of these is the Cloud Natural Language API, which lets developers parse the meaning and structure of text. With initial support for English, Spanish, and Japanese, the API provides tools to understand the sentiment expressed in text, the relevant entities discussed (e.g. people, places, events, products, and media), and the syntax of the text.
It is, in short, a way to help software understand. For companies, potential applications might include understanding how people feel about a product based on the sentiment expressed in online reviews, or how customers feel about support interaction based on analysis of transcribed calls.
As an example of how sentiment analysis can be applied, in a separate blog post Google explored sentiment analysis data for stories published in The New York Times over the first two weeks of July. Google's Cloud Natural Language API found US news stories had the most negative sentiment, while arts stories were the most positive. This lends support to arguments that news consumption is bad for you.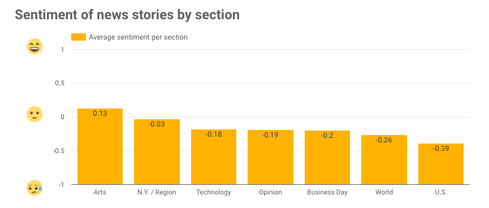 (Image: Google)
The second is the Cloud Speech API, which offers a way to turn spoken content into text in over 80 languages. Speech-to-text transcription enables voice-based interaction with devices like Amazon Echo, Apple Siri, and the forthcoming Google Home. It offers app developers a way to accept commands by voice and to direct those commands at any network-accessible device.
Google product managers Apoorv Saxena, Dan Aharon, and Dave Stiver note in a blog post that since the alpha version of Cloud Speech API was introduced March, over 5,000 companies have signed up to try it, including video chat app HyperConnect and speech analytics service provider VoiceBase. They also said that Ocado Technology, which builds systems for online grocery retailer Ocado, has been using the Cloud Natural Language API as an alpha customer.
Google has made it clear that machine learning plays a critical role in the company's future. "Machine learning is a core transformative way by which we are rethinking everything we are doing," said CEO Sundar Pichai during the company's Q3 2015 earnings call last year, and he reiterated the promise of machine learning and artificial intelligence in his contribution to the 2016 Google Founders' Letter.
[See Google Cloud Conundrum: 7 Questions That Need Answering.]
Google has tried to amplify excitement about machine learning through the open source release of technology like SyntaxNet, Parsey McParseface, and TensorFlow, even as competitors like Amazon, Baidu, Facebook, and Microsoft have made similar moves.
These companies are interested in benefiting from community support for software used internally. They're also interested in seeding interest among companies that could become customers of their respective cloud services. Open source machine learning tools are widely available, but running them with a large data set can lead to a significant cloud computing bill.
In anticipation of such business, Google announced an expansion of its Cloud Platform in the North American West with the opening of the Oregon Cloud Region (us-west1). By expanding its geographic presence, Google's Cloud Platform can deliver better service to customers in the area. Google plans to broaden its Cloud Platform footprint to the Tokyo region later this year, followed by 10 more regions in 2017.
(Cover Image: cliffwass/iStockphoto)
Thomas Claburn has been writing about business and technology since 1996, for publications such as New Architect, PC Computing, InformationWeek, Salon, Wired, and Ziff Davis Smart Business. Before that, he worked in film and television, having earned a not particularly useful … View Full Bio