Machine Learning Startups Snapped Up: Big Data Roundup
Apple, Intel, Palantir, and HPE were among the tech giants acquiring data analytics and machine learning companies. Here's your Big Data Roundup for the week ending August 14, 2016
Apple and Intel acquired machine learning startups. Palantir purchased a data visualization startup. HPE bought SGI. And AWS rolled out an analytics service for streaming real time data. We've got all this and more in our Big Data Roundup for the week ending August 14, 2016.
Let's start with Apple. The company acquired Turi, an artificial intelligence (AI) and machine learning startup, in a deal reportedly worth $200 million.
Turi offers tools to help developers scale machine learning applications. They include Predictive Services, a server for hosting and managing machine learning models, and Graph Create, an extensible machine learning framework which enables developers and data scientists to build and deploy intelligent applications and services.

The Turi acquisition marks yet another data and intelligence buy for Apple. Others include Perceptio and VocalIQ.
Intel Buys Nervana
Intel also made a buy in the AI space this week, spending a reported $408 million to buy Nervana Systems, a deep learning company. Intel said it will use Nervana's technology to optimize the Intel Math Kernel Library, to integrate it into industry-standard AI frameworks, and to improve the deep learning performance of Intel Xeon and Intel Xeon Phi processors.
The acquisition builds on other efforts by Intel along these lines. In June, Intel introduced its Xeon Processor E7 v4. According to the company, the new processor is aimed at tackling the challenges of big data analytics, offering what Intel claimed is the industry's largest memory capacity per socket. Intel also has its own big data analytics efforts underway in the software space.
Palantir Buys Silk
Palantir, the privately held data analytics software and consulting giant whose customers include government intelligence agencies, acquired Silk, a data visualization company. Silk offered a public platform very similar to Tableau's, which allows individuals and organizations to upload their data to create data visualizations.
The platform was used by journalists, activists, and others to create visualizations representing companies with women CEOs and board directors, worldwide soccer salaries, Stack Overflow careers, and more. Silk will leave its platform intact so it can still be used to create these visualizations or "Silks." But the platform won't be supported or updated.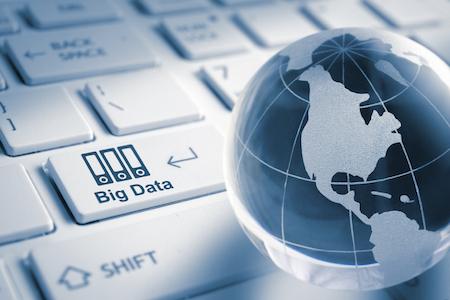 (Image: PonyWang/iStockphoto)
Meanwhile, Silk's team will move over to new jobs at Palantir, which was co-founded by PayPal alumni including Peter Thiel.
HPE Buys SGI
HPE, meanwhile, announced plans to buy SGI, formerly known as Silicon Graphics, in a deal worth $275 million. HPE's purchase indicates the company is sticking with its laser focus on high performance computing (HPC) and analytics. These are areas of specialty for SGI, once known for its work with special effects in the film industry on movies such as Jurassic Park. HPE said the acquisition will combine the two companies' strengths, including SGI's in-memory, ghih performance data analytics technology. Plus, SGI holds a strong position in key vertical markets such as government, research, and life sciences.
Amazon Kinesis Gets Analytics
Also this week, Amazon announced it is adding analytics to its Kinesis Service for real-time data stream capture. In addition, Amazon Kinesis Analytics will work with the Amazon Kinesis Firehose service, which loads real time data streams into Amazon S3 storage, the Redshift data warehouse, and Amazon Elasticsearch Service.
Amazon said the updates enable organizations to run continuous SQL queries against streaming data, letting you filter, transform and summarize data as it arrives. The announcement builds on Amazon's existing Kinesis real-time data service, first announced in November 2013.