Many Businesses Using AI Without Realizing It
Businesses see AI as a future investment, even though most organizations are actually already using it, a study finds.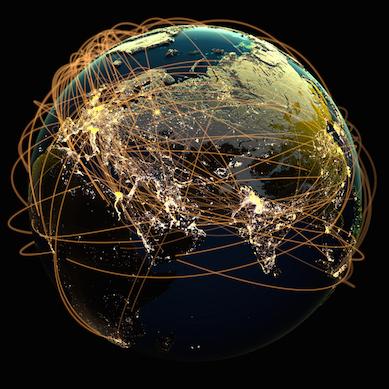 (Click image for larger view and slideshow.)
While only about a quarter of surveyed business executives say they're currently using artificial intelligence in the workplace to automate manual tasks, a vast majority of those who said they weren't using AI actually were without realizing it.
The National Business Research Institute in conjunction with Narrative Science, an AI technology company, surveyed more than 230 senior US business and technology executives in April and May to learn how they use AI-related technologies in their organizations.
About 26% of respondents acknowledged using AI systems to automate repetitive tasks, up from 15% surveyed last year. But 88% of those who denied using AI solutions reported that they rely on services or products powered by AI techniques. These include predictive analytics, automated written reporting and communications, and voice recognition and response.
Inability to recognize AI in one's environment could be attributed to human failings, but there's a more reasonable explanation: "Artificial intelligence" is an ill-defined term.
"This significant disconnect underscores the fact that there is confusion when it comes to the definition of AI, and this goes to the heart of one of the key issues with AI," the report says. "It has the promise of being used in so many places that a clear definition of what it is and the guaranteed ROI remains hazy."
Part of the problem is that "intelligence" often implies some degree of quality in terms of algorithm design and the decisions AI services make. Evaluating whether a decision was intelligent or less than so isn't always immediately obvious.
Were decision quality absent from the definition, random decision-making techniques like throwing darts or rolling dice would qualify as AI.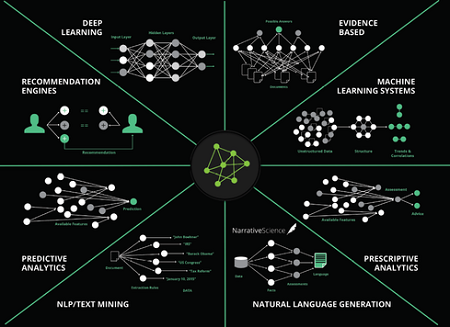 (Image: Narrative Science)
Many of those who develop systems that could be considered AI prefer more precise terms like deep learning, machine learning, predictive analytics, and the like. When Google elaborated on how its DeepMind AI reduced the company's energy usage for cooling its data centers by up to 40%, it attributed the savings to machine learning.
But regardless of the terminology employed, AI looks like it will become even more prevalent within organizations in the years to come. Among survey respondents who said, often erroneously, that their organizations hadn't deployed AI technologies, 41% said doing so is a priority, and 56% said they planned to do so in the next two years.
The NBRI/Narrative Science survey found that predictive analytics — the automated analysis of data to anticipate future events or actions — is the most common AI-oriented technology, used by 58% of respondents' companies.
The appeal of predictive analytics, the survey suggests, can be found its potential financial impact. As the survey suggests, the technology can prevent costly hospital readmissions and improve supply chain management, among other benefits.
[See 12 Ways AI Will Disrupt Your C-Suite.]
According to Gartner, predictive and prescriptive analytics will attract 40% of enterprises' net new investment in business intelligence and analytics by 2020.
Any such investment, however, may prove challenging to implement due the apparent shortage of talent. A 2011 study conducted by McKinsey suggests demand for data scientists by 2018 will exceed supply by more than 50%.
Among NBRI/Narrative Science survey respondents, 59% cited lack of data science talent as one of the most common challenges when trying to generate value from business data. 
How ironic that machine learning is teaching organizations the value of human education.
Thomas Claburn has been writing about business and technology since 1996, for publications such as New Architect, PC Computing, InformationWeek, Salon, Wired, and Ziff Davis Smart Business. Before that, he worked in film and television, having earned a not particularly useful … View Full Bio